Inter-Con Security
Human| Ethical | Excellence  | Innovation
Consumer Goods and Services
Government and Diplomatic
Our Story
Inter-Con Security Systems, Inc. is a premier global provider of integrated security services. We deliver a comprehensive suite of customized security solutions to Fortune 100 companies, government institutions, diplomatic missions and organizations worldwide.
Inter-Con is a privately held, American-owned Minority Business Enterprise (MBE). Founded in 1973, today, Inter-Con employs more than 25,000 security professionals operating across four continents while delivering over 65 million manhours of security services annually. Inter-Con provides a wide range of security services: our core competencies include: customized physical security, security program development and management, electronic security, security consulting and training, and specialized services.
We are recognized by our customers for designing and implementing customized, innovative security solutions with operational effectiveness and cost-effi ciencies. Inter-Con accomplishes this by integrating our extensive operational experience, flexible project management, forward-leaning approaches and stringent quality control programs. Inter-Con delivers the best security value-per-dollar spent enabling our customers to focus on their core business.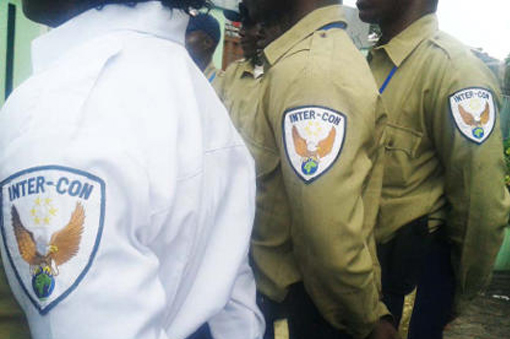 PHYSICAL SECURITY

80%

80%

SECURITY CONSULTING & TRAINING

60%

60%

PROGRAM MANAGEMENT

50%

50%

ELECTRONIC SECURITY

90%

90%

SPECIALIZED SERVICES

90%

90%
Mission
MISSION STATEMENT At Inter-Con, we serve our valued clients byensuring the safety and security of their people, property and information. Inter-Con accepts this enormous responsibility, ever mindful of the trust placed in us by our clients. Inter-Con devotes its collective energy and resources to confi rming this trust by delivering best-inclass security services with professionalism and consistency
Values
Human | Ethical |  Excellence | Innovation